Description
The "45 Best BBQ Grilling Recipes: Fast and Healthy" book offers numerous benefits to readers who are passionate about grilling and looking for delicious and nutritious BBQ recipes.
Benefits of BBQ Grilling Recipes
Here are some key benefits of this book:
Flavorful Grilling: The book provides a collection of 45 BBQ grilling recipes that are carefully selected to deliver exceptional flavors. From juicy steaks to tender chicken and succulent vegetables, these recipes are designed to elevate your grilling experience.
Variety of Recipes: Whether you prefer classic favorites or crave adventurous flavors, this book offers a wide variety of BBQ grilling recipes. It includes options for different meats, seafood, vegetables, and even desserts, allowing you to explore and experiment with a range of flavors.
Easy and Fast: These recipes are specifically chosen for their simplicity and efficiency. They are designed to be easy to follow, making it accessible to both experienced grillers and beginners. With straightforward instructions, you can quickly prepare mouthwatering dishes on your grill.
Health-Conscious Approach: While indulging in delicious grilled foods, this book also emphasizes a health-conscious approach. The recipes focus on using fresh, high-quality ingredients and incorporating healthier cooking techniques, allowing you to enjoy flavorful meals without compromising your health goals.
Time-Saving: With busy schedules, time is often a constraint. This book offers recipes that can be prepared relatively quickly, perfect for those who want to enjoy a delicious BBQ meal without spending hours in the kitchen. You can spend more time enjoying the company of your loved ones and less time on meal preparation.
Suitable for Various Occasions: Whether you're planning a weekend cookout, a family gathering, or a casual get-together, these BBQ grilling recipes cater to various occasions. You'll find options for intimate dinners, large parties, and everything in between, ensuring that you can impress your guests with flavorful and satisfying meals.
Tips and Techniques: In addition to the recipes, this book may provide valuable tips and techniques to enhance your grilling skills. From choosing the right cuts of meat to mastering temperature control and achieving perfect grill marks, you can benefit from expert advice and elevate your grilling prowess.
Outdoor Cooking Enjoyment: Grilling is not just about the food; it's an experience that brings people together outdoors. This book encourages you to embrace the joy of outdoor cooking and enjoy the process of grilling with friends and family.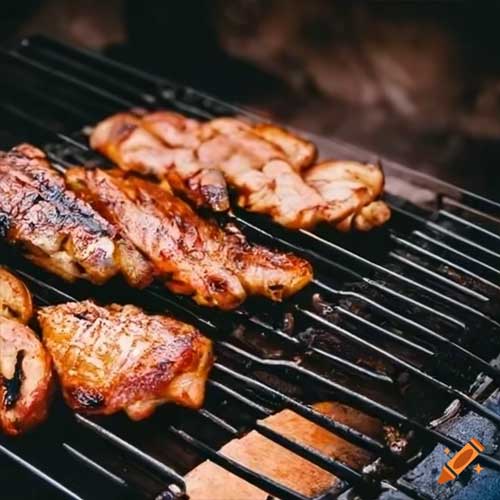 In summary, the "45 Best BBQ Grilling Recipes: Fast and Healthy" book offers flavorful, diverse, and easy-to-follow recipes that cater to different tastes and occasions. It prioritizes health-conscious cooking while delivering delicious BBQ flavors. With time-saving techniques and expert tips, this book is a valuable resource for anyone looking to elevate their grilling skills and enjoy memorable outdoor cooking experiences with loved ones.
Downloadable: 45 Best BBQ Grilling Recipes
"45 Best BBQ Grilling Recipes" is a mouthwatering collection of recipes that will take your barbecuing skills to the next level. This downloadable book is a must-have for all barbecue enthusiasts, whether you're a seasoned griller or just starting out.
The book (45 Best BBQ Grilling Recipes) is packed with 45 delectable recipes that cover a wide range of dishes, including succulent meats, flavorful seafood, vibrant vegetables, and irresistible desserts. Each recipe is carefully crafted to bring out the best flavors and textures on the grill, guaranteeing a memorable dining experience for you and your guests.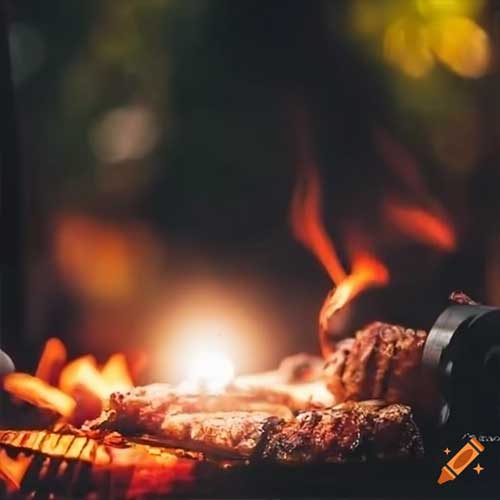 With this book (45 Best BBQ Grilling Recipes), you'll find step-by-step instructions that are easy to follow, accompanied by vibrant photographs that will make your mouth water. Whether you're looking to impress your friends at a backyard cookout or simply craving a delicious meal for your family, "45 Best BBQ Grilling Recipes" has something for everyone.
The recipes in this book are designed to cater to various dietary preferences and include options for meat lovers, seafood aficionados, and vegetarians alike. From classic barbecue staples like smoky ribs and juicy burgers to unique creations like grilled pineapple skewers and honey-glazed salmon, there's a recipe to suit every palate.
In addition to the recipes themselves, the book (45 Best BBQ Grilling Recipes) also offers valuable tips and techniques for achieving perfect grilling results. You'll learn about marinades, rubs, and sauces that enhance the flavors of your dishes, as well as proper grilling techniques for different types of ingredients. These insights will help you become a more confident and skilled griller, ensuring that your barbecue creations are always a hit.
"45 Best BBQ Grilling Recipes" is not just a cookbook; it's a culinary adventure that will inspire you to explore new flavors and techniques. So fire up your grill, gather your ingredients, and get ready to embark on a flavorful journey that will delight your taste buds and leave you craving more.
45 Best BBQ Grilling Recipes Fast and Healthy - Downloadable PDF Book - 1Touch Food Culinary Center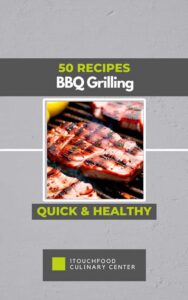 "45 Best BBQ Grilling Recipes Fast and Healthy" is a downloadable book that offers a collection of mouthwatering barbecue recipes designed specifically for those who seek both speed and health-conscious options. Whether you're short on time or looking to maintain a balanced diet, this book has you covered. Inside, you'll find 45 delicious and flavorful recipes that are carefully crafted to be prepared quickly while still keeping nutrition in mind. From succulent grilled chicken and tender fish fillets to vibrant vegetable skewers and tasty plant-based options, this book offers a wide range of dishes to suit different dietary preferences. Each recipe is accompanied by clear and concise instructions, making it easy for you to whip up a healthy and delicious meal in no time. The book also provides helpful tips on grilling techniques and suggestions for marinades and sauces that enhance the flavors of your dishes. "45 Best BBQ Grilling Recipes Fast and Healthy" not only focuses on quick and nutritious meals but also emphasizes the importance of using fresh ingredients and incorporating wholesome flavors. With this book, you can enjoy the convenience of fast cooking without compromising on taste or nutrition. Whether you're a busy professional, a health-conscious individual, or simply someone who enjoys the flavors of barbecue, this book will inspire you to create mouthwatering meals that are both satisfying and good for you. So grab your apron, fire up the grill, and get ready to indulge in a fantastic array of fast and healthy barbecue dishes that will leave you feeling nourished and satisfied.
URL: https://culinary.1touchfood.com/shop/
Author: 1TouchFood
Name: 45 Best BBQ Grilling Recipes Fast and Healthy
Author: 1TouchFood
Format: https://schema.org/EBook