Description
The "50 Easy 5-Ingredient Recipes: Fast and Healthy" book offers numerous benefits to readers who are searching for quick and healthy meal options using just five ingredients.
Benefits of 5-ingredient recipes Book
Here are some of the key benefits of this book (5-Ingredient Recipes):
Time-Saving: With busy schedules, finding time to prepare meals can be challenging. This book provides 50 recipes that require only five ingredients, allowing readers to save time in the kitchen without compromising on taste or nutrition.
Simplified Cooking: Many people feel overwhelmed by complex recipes with long ingredient lists. This book simplifies the cooking process by focusing on recipes that use minimal ingredients, making it easier for both beginners and experienced cooks to whip up delicious meals.
Cost-Effective: Cooking with fewer ingredients can help reduce grocery expenses. By utilizing only five ingredients per recipe, readers can enjoy budget-friendly meals while still enjoying a variety of flavors and nutritious options.
Health-Conscious: The book emphasizes fast and healthy recipes, ensuring that readers can maintain a nutritious diet even with limited time and ingredients. The recipes focus on using fresh and wholesome ingredients to create balanced and nourishing meals.
Versatile Options: The book offers a diverse range of recipes, including breakfasts, lunches, dinners, snacks, and desserts. Readers can find inspiration for every meal of the day, all using only five ingredients.
Beginner-Friendly: The simplicity of the recipes makes them ideal for those who are new to cooking or have limited culinary skills. The straightforward instructions and minimal ingredients allow beginners to build confidence in the kitchen.
Variety and Creativity: Despite the limited number of ingredients, the book provides a wide variety of recipes to cater to different tastes and dietary preferences. Readers can explore new flavor combinations and experiment with different ingredient substitutions to suit their preferences.
Meal Planning Made Easy: The book offers a collection of recipes that can be easily incorporated into meal planning routines. With only five ingredients required, readers can quickly plan and prepare their meals for the week, saving time and effort.
Family-Friendly: The recipes in this book (5-Ingredient Recipes) are designed to appeal to a wide range of palates, making them suitable for the entire family. Whether you're cooking for yourself or feeding a group, these recipes offer simple and delicious options that everyone can enjoy.
Overall Convenience: By providing a curated selection of 50 recipes, this book (5-Ingredient Recipes) eliminates the need for readers to search for ideas or spend hours planning meals. It offers a convenient and accessible resource for those seeking quick, healthy, and flavorful dishes using only five ingredients.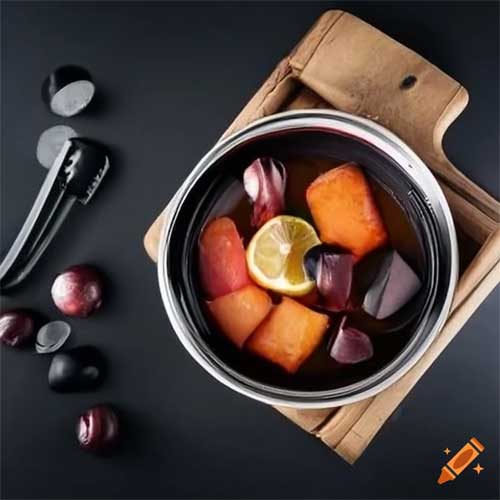 In summary, the "50 Easy 5-Ingredient Recipes: Fast and Healthy" book offers time-saving, simplified cooking, cost-effective, health-conscious, versatile, beginner-friendly, creative, and convenient options for individuals looking to prepare quick and nutritious meals using only five ingredients.
Downloadable : 50 Easy 5-Ingredient Recipes
When you download the "50 Easy 5-Ingredient Recipes: Fast and Healthy" book, you gain access to a convenient digital format that allows you to have the recipes at your fingertips anytime, anywhere. The downloadable version offers several advantages:
Instant Access: Once you complete the download, you can immediately start exploring the recipes and planning your meals without any delay. There's no need to wait for shipping or worry about physical copies being out of stock.
Portability: With the downloadable book (5-Ingredient Recipes) stored on your device, you can take it with you wherever you go. Whether you're cooking in the kitchen or grocery shopping, having the book (5-Ingredient Recipes) on your smartphone, tablet, or computer ensures easy reference and recipe browsing.
Searchable Content: The digital format allows for quick and efficient searching. Looking for a specific recipe or ingredient? Simply use the search function to find what you need without flipping through pages.
Interactive Features: Depending on the format, downloadable books may include interactive features like clickable links, bookmarks, or even video tutorials. These features enhance your cooking experience and provide additional resources or tips to make the most out of the recipes.
Space-Saving: Unlike physical books that take up shelf space, the downloadable version can be stored digitally, saving you space in your kitchen or bookshelf. It's also environmentally friendly, as no paper or packaging is involved.
Convenience and Flexibility: You have the freedom to access the book (5-Ingredient Recipes) whenever you want, without relying on an internet connection. This flexibility allows you to cook and experiment with the recipes at your own pace, at any time that suits you.
Updates and Extras: Depending on the author or publisher, downloadable books may include periodic updates or additional content. This ensures that you have the most up-to-date recipes, tips, or bonus materials to enhance your cooking journey.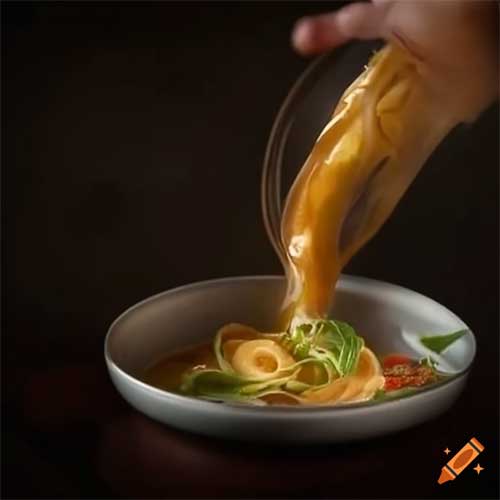 Downloading the "50 Easy 5-Ingredient Recipes: Fast and Healthy" book offers convenience, portability, and interactive features that enhance your cooking experience. Enjoy the benefits of having a digital recipe collection right at your fingertips, making it easy to create delicious and nutritious meals with just five ingredients.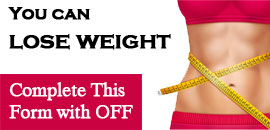 50 easy 5-ingredient recipes Fast and Healthy - Downloadable PDF Book - 1Touch Food Culinary Center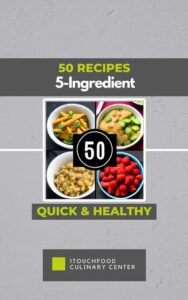 "50 Easy 5-Ingredient Recipes: Fast and Healthy" is a handy cookbook that provides a collection of simple and delicious recipes requiring just five ingredients. Designed for busy individuals seeking quick and nutritious meal options, this book offers a variety of breakfast, lunch, dinner, snack, and dessert recipes. With a focus on time-saving and health-conscious cooking, this book is perfect for beginners and experienced cooks alike, providing convenience and flavor without compromising on nutritional value.
URL: https://culinary.1touchfood.com/shop/
Author: 1TouchFood
Name: 50 easy 5-ingredient recipes
Author: Master Chef
Format: https://schema.org/EBook