Cooking time
Preparation time

30 mins

Cooking time

115 mins

Difficulty

Serves

4 people
Ingredients
4 medium

1 medium

1 medium

4 large

1

1 As Needed

1 As Needed

2

2 cup

1

1

1/4 cup

1 As Needed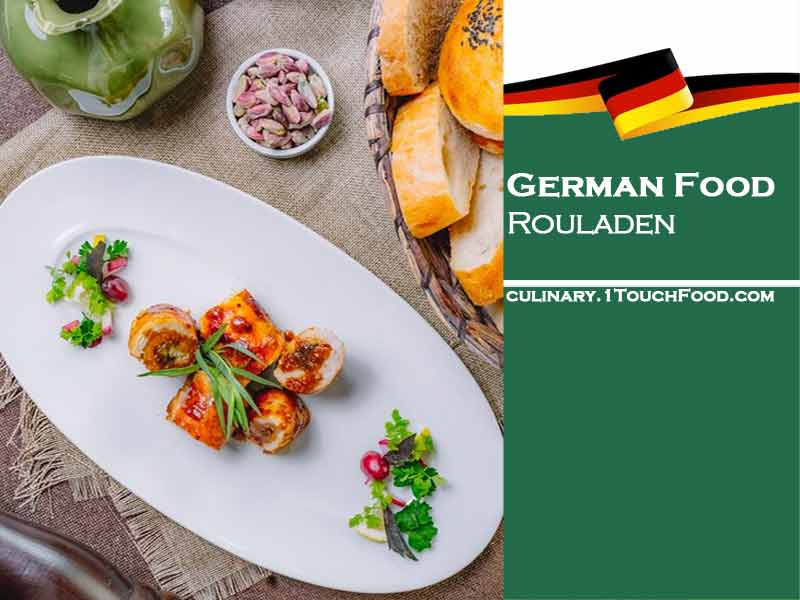 Welcome, culinary enthusiasts, to a gastronomic journey that transports you to the heart of Germany's rich flavors and traditions. Today, we're exploring the art of crafting Rouladen, a cherished dish that embodies warmth, comfort, and culinary excellence. Prepare to be captivated by tender beef rolls filled with a medley of delectable ingredients, simmered to perfection in a velvety sauce. Join us as we dive into the secrets of this classic recipe and unlock the culinary magic of Rouladen.
For Whom and Why It's Great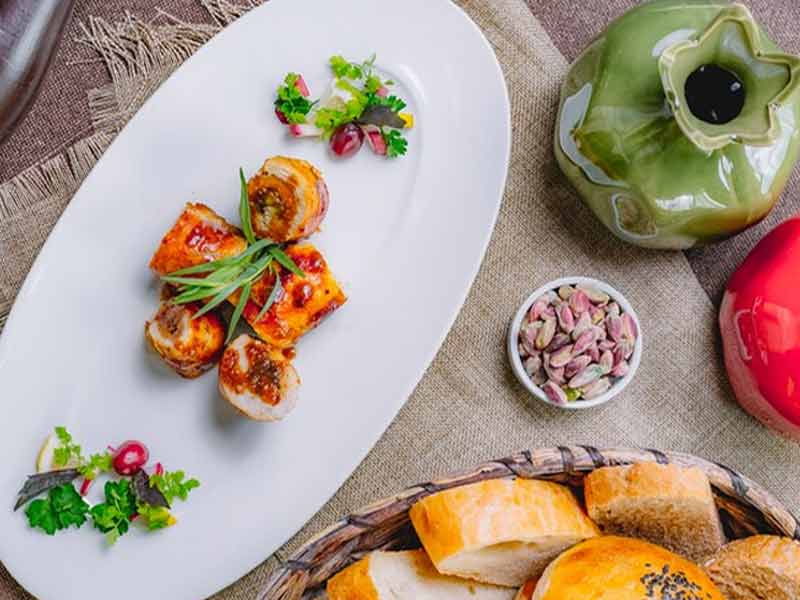 This food isn't just a dish; it's a story passed down through generations. This recipe is ideal for those who appreciate the beauty of slow-cooked comfort food that fuses flavors in a harmonious symphony. It's perfect for family gatherings, special occasions, or when you simply want to elevate your weeknight dinner to something extraordinary. The succulent beef, paired with a symphony of ingredients, ensures that This food will leave an indelible mark on your taste buds and create memories that last a lifetime. You can read 50 Healthy Breakfast Ideas for Weight Loss.
Kitchen Equipment You'll Need
Before we embark on this culinary adventure, let's ensure your kitchen is fully equipped to master the art of crafting Rouladen:
Meat mallet or rolling pin
Kitchen twine or toothpicks
Large skillet or Dutch oven
Tongs
Cutting board
Sharp knife
Ingredients and Directions
Ingredients:
4 beef top round or sirloin steaks, thinly sliced
4 slices of bacon
1 large onion, finely chopped
4 large dill pickles, sliced
4 tablespoons mustard
Salt and pepper, to taste
2 tablespoons vegetable oil
2 cups beef broth
1 cup red wine (optional)
2 tablespoons all-purpose flour
Fresh parsley, for garnish
Directions:
Lay out the beef slices and gently pound them to an even thickness using a meat mallet.
Season each slice with salt and pepper and spread a thin layer of mustard on each one.
Place a slice of bacon, chopped onion, and a pickle on each beef slice.
Roll up the beef slices, securing them with kitchen twine or toothpicks to hold their shape.
Heat vegetable oil in a skillet or Dutch oven over medium-high heat.
Brown the Rouladen on all sides, then remove them from the pan and set aside.
Add flour to the pan drippings and cook until golden brown.
Gradually whisk in beef broth and red wine, if using, to create a smooth sauce.
Return the this food to the pan, cover, and simmer for about 1.5 to 2 hours, or until the meat is tender.
Remove the Rouladen from the pan, slice the kitchen twine or remove the toothpicks, and serve with the rich sauce.
Garnish with fresh parsley before serving.
Tips and Shortcuts
To save time, you can prepare the Rouladen in advance and refrigerate them until ready to cook.
If you prefer a less tangy flavor, you can use a milder mustard variety.
For an extra burst of flavor, consider adding a slice of cheese to the filling before rolling.
Recipe Swaps and Variations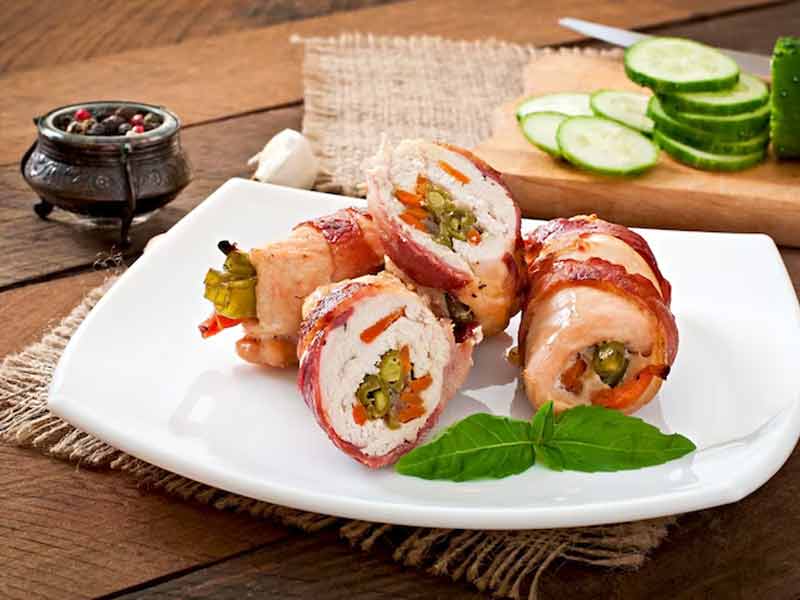 Let your creativity shine by experimenting with these enticing Rouladen variations:
Turkey this food: Opt for turkey slices instead of beef for a lighter alternative.
Vegetarian this food: Substitute the meat with tofu or seitan and fill with a medley of sautéed vegetables.
Storing Leftovers
Should you find yourself with leftover Rouladen (a rare occurrence, trust me!), store them in an airtight container in the refrigerator for up to three days. Reheat gently on the stovetop or in the oven to maintain their tenderness and flavors. You can read 50 easy Healthy Lunch for Weight Loss.
Food and Drink Pairings
Elevate your Rouladen experience with these delightful pairings:
Classic Accompaniments: Serve this food with creamy mashed potatoes and red cabbage for a traditional German feast.
Wine Pairing: Enhance the flavors with a robust red wine such as a Pinot Noir or Cabernet Sauvignon.
Conclusion
As our culinary journey comes to a close, we invite you to embrace the legacy of Rouladen and its ability to transform ordinary moments into extraordinary memories. With its tender beef, flavorful fillings, and sumptuous sauce, this food embodies the essence of German cuisine and the joy of sharing a hearty meal with loved ones. We encourage you to recreate this recipe in your own kitchen, savoring each bite and relishing the experience. Don't keep this treasure to yourself—share the recipe with friends and family, and be sure to subscribe to our blog for more culinary inspirations. Happy cooking!
Frequently Asked Questions (FAQs) About Rouladen
Rouladen is a traditional German dish made from thinly sliced beef, typically filled with a mixture of bacon, onions, and pickles, then rolled up and cooked until tender.
How do you pronounce "Rouladen"?
Rouladen is pronounced as "roo-lah-den."
What cuts of beef are best for making this food?
The best cuts of beef for making this food are top round, sirloin, or flank steak due to their tenderness and suitability for rolling.
What are the key ingredients for a classic Rouladen recipe?
The key ingredients for a classic this food recipe include beef slices, bacon, onions, pickles, mustard, and a flavorful sauce.
Is this food difficult to make?
Rouladen may seem intricate, but with the right instructions, it's manageable and incredibly rewarding to prepare.
Can I make a vegetarian version of Rouladen?
Yes, you can make a vegetarian version using tofu or seitan instead of beef and filling them with sautéed vegetables.
What's the role of pickles in Rouladen?
Pickles add a tangy and refreshing element to the Rouladen filling, balancing the richness of the beef and bacon.
What type of mustard should I use for Rouladen?
Use a mild, whole-grain, or Dijon mustard to enhance the flavor of the filling without overpowering it.
Is it necessary to use kitchen twine or toothpicks to secure Rouladen?
Yes, securing the Rouladen with kitchen twine or toothpicks helps them maintain their shape during cooking.
Can I prepare Rouladen in advance?
Yes, you can prepare this food in advance and refrigerate them until ready to cook. This allows the flavors to meld.
What's the purpose of the sauce in Rouladen?
The sauce in Rouladen adds moisture and enhances the overall flavor of the dish.
Can I freeze leftover this food?
Yes, you can freeze leftover cooked this food. Wrap them well and store them in an airtight container for up to three months.
What's the history of this food?
Rouladen has roots in German cuisine and has been enjoyed for generations as a hearty and comforting dish.
What are some common side dishes served with Rouladen?
This food pairs well with side dishes like mashed potatoes, red cabbage, and roasted vegetables.
Can I make Rouladen without bacon?
Yes, you can omit the bacon for a leaner version, but keep in mind that it adds flavor and moisture to the dish.
What's the recommended cooking time for Rouladen?
Rouladen is typically simmered for about 1.5 to 2 hours, or until the beef is tender and the flavors have melded.
Can I cook this food in a pressure cooker?
Yes, you can cook this food in a pressure cooker for a quicker cooking time. Follow the manufacturer's instructions.
What wine pairs well with this food?
A red wine such as a Pinot Noir or a medium-bodied red blend complements the flavors of Rouladen.
Can I make a dairy-free version of Rouladen?
Yes, you can omit dairy by using dairy-free substitutes for ingredients like butter and cream in the sauce.
What's the origin of this food?
This food has its origins in German-speaking regions and is a beloved dish in countries like Germany, Austria, and Switzerland.
Feel free to explore the world of Rouladen and its many delicious variations. Happy cooking!
History of German Rouladen
This food is a traditional German dish that dates back to the Middle Ages. It is believed to have originated in the Rhineland region of Germany, where it was a popular dish among the working class. The dish consists of thin slices of beef, usually flank steak, that are rolled up with bacon, onions, pickles, and mustard, and then cooked in a flavorful broth.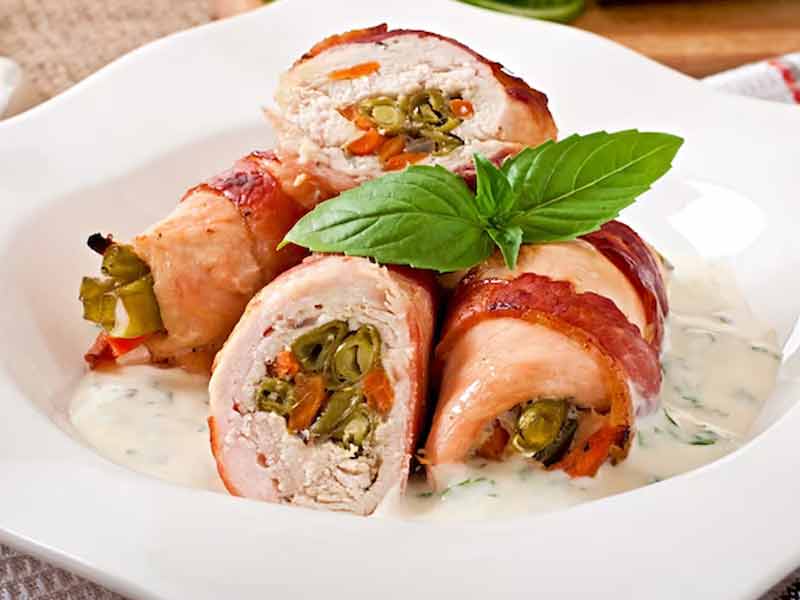 It was traditionally served as a main course, but it can also be served as an appetizer or side dish. It is often served with boiled potatoes, red cabbage, and a variety of other vegetables. The dish is popular throughout Germany and is also served in other countries, such as Austria, Switzerland, and the United States. You can read 30 Delicious Recipes Weight Loss Salads.
Rouladen is a popular dish in Germany, and it is often served during special occasions such as Christmas and Easter. It is also a popular dish for Oktoberfest celebrations. The dish is often served with a variety of sauces, such as mushroom sauce, horseradish sauce, or a creamy mustard sauce.

Soon we will be with you with a more professional team with more facilities. We suggest that if you are overweight, fill out the Nutrition Programs and wait for our experts to contact you and send you the right meal plan.
The slogan we put on our site is to fight obesity. In this regard, we will provide you with many suitable recipes. Be sure to follow our site to learn about many healthy foods. Do not forget that a healthy life requires extensive changes. One of these changes is changing food. So eat healthy.
How to prepare Best German Rouladen for 4 people - 1Touch Food Culinary Center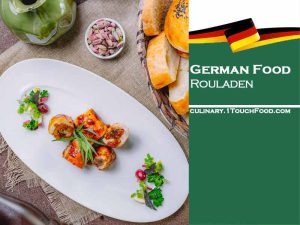 German Rouladen is a traditional German dish that is made with thin slices of beef, bacon and cooked in a flavorful gravy. German Rouladen
Type: Main Dish
Cuisine: German
Keywords: Rouladen
Recipe Yield: 4
Preparation Time: PT0H30M
Cooking Time: PT1H55M
Total Time: PT2H25M
Recipe Ingredients:
4 medium beef round steaks
1 medium Onion
1 medium bacon
4 large dill pickles
1 table spoon Mustard
1 As Needed Salt
1 As Needed Black Pepper
2 table spoon oil
2 cup beef stock
1 table spoon tomato paste
1 table spoon Flour
1/4 cup sour cream
1 As Needed fresh parsley
Recipe Instructions: German Rouladen is a traditional German dish that is made with thin slices of beef, bacon, onions, pickles, and mustard, all rolled up and cooked in a flavorful gravy. It is a hearty and comforting meal that is sure to please the whole family. Enjoy your Meals!
Instructions
Lay out the beef round steaks on a cutting board, and pound them with a meat mallet to make them thinner and more tender.Season each steak with mustard, salt, and pepper. Place a slice of bacon, chopped onions, and a dill pickle on top of each steak.

Roll up the steak tightly and secure it with toothpicks or kitchen twine.Heat the oil in a large skillet over medium-high heat. Add the rolled-up Rouladen and brown them on all sides, about 5-7 minutes in total.

Add the beef broth, tomato paste, and flour to the skillet. Stir well to combine, and bring the mixture to a boil.Reduce the heat to low, cover the skillet, and simmer for about 1-1.5 hours, or until the Rouladen are tender and cooked through.

Remove the toothpicks or kitchen twine from the Rouladen and transfer them to a serving platter.Stir in the sour cream to the sauce and season with salt and pepper to taste. Pour the sauce over the Rouladen, and garnish with chopped parsley if desired.

Serve hot with your favorite sides such as potato dumplings or spaetzle, and enjoy your homemade German Rouladen!