Description
A smoothie is a type of beverage that is typically made by blending fruits and/or vegetables with liquids such as water, milk, yogurt, or juice. Smoothies can be made with a variety of ingredients, including berries, bananas, kiwis, oranges, apples, spinach, kale, carrots, and many others.
Smoothies are often considered to be a healthy alternative to other drinks because they can provide a lot of essential vitamins and nutrients in one convenient package. Some people also add protein powder, nut butters, or other supplements to their smoothies to boost their nutritional content. Smoothies can be enjoyed as a snack or as a meal replacement, depending on the ingredients and the individual's dietary needs.
E-book of Smoothie Drink Recipes
In this section, we have put 50 amazing Smoothie Drink Recipes of all kinds of drink for you. With this product, you will have 50 types of Smoothie Drink Recipes in one file forever. These files are in PDF format and can always be saved.
Please follow us in linkedin. You can learn all best french food recipe and best Italian food recipe you can check our Reddit page.
50 Smoothie Drink Recipes from the Best Recipes - 1Touch Food Culinary Center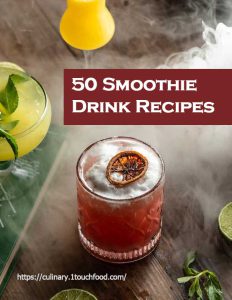 Here are Smoothie Drink Recipes. A smoothie is a type of beverage that is typically made by blending fruits and/or vegetables with liquids such as
Product Brand: 1TouchFood
Product Currency: CAD
Product Price: 10
Product In-Stock: InStock