Description
The Tea drink recipes are recipes for beverages that are made using tea as the primary ingredient. These recipes often involve brewing tea in hot water and adding additional ingredients such as sweeteners, milk, or fruit to create a unique and flavorful drink.
There are many different types of tea drink recipes, ranging from classic iced tea to more complex recipes like chai lattes and matcha smoothies. Some recipes may also use herbal teas or tea blends that include other ingredients like fruit, spices, or flowers.
Tea drink recipes can be enjoyed hot or cold and can be made with various types of tea, including black, green, white, oolong, and herbal teas.
They can also be customized to fit individual taste preferences, such as adding more or less sweetener, adjusting the strength of the tea, or adding additional flavors like lemon or ginger.
Overall, tea drink recipes are a great way to enjoy the taste and potential health benefits of tea in a unique and flavorful way.
E-book of Tea Drink Recipes
In this section, we have put 50 amazing recipes of all kinds of teas for you. With this product, you will have 50 types of tea in one file forever. These files are in PDF format and can always be saved.
Please follow us in linkedin. You can learn all best french food recipe and best Italian food recipe you can check our Reddit page.
50 Tea Drink Recipes from the Best Recipes - 1Touch Food Culinary Center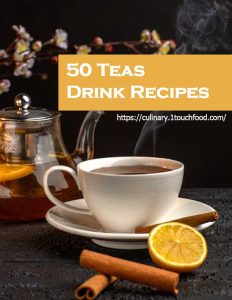 Tea drink recipes are recipes for beverages that are made using tea as the primary ingredient. Tea drink recipes often involve brewing tea in hot
Product Brand: 1TouchFood
Product Currency: CAD
Product Price: 10
Product In-Stock: InStock