Description
juice drink recipes: A juice drink is a beverage that is made by combining juice with other ingredients, such as water, sugar, and flavorings. Juice drinks may contain a lower percentage of actual juice compared to pure fruit juice, and they may also include added preservatives or artificial flavors.
Some popular juice drinks include fruit punch, lemonade, and iced tea with added fruit juice. Juice drinks are often marketed as a healthier alternative to soda. But it's important to check the label and ingredient list to make sure they are not high in added sugars or artificial ingredients.
E-book of Juice Drink Recipes
In this section, we have put 50 juice drinks recipes of all kinds of drink for you. With this product, you will have 50 juice drink recipes in one file forever. These files are in PDF format and can always be saved.
Please follow us in linkedin. You can learn all best french food recipe and best Italian food recipe you can check our Reddit page.
50 Juice Drink Recipes from the Best Recipes - 1Touch Food Culinary Center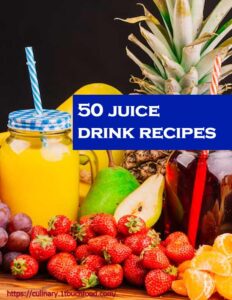 50 juice drink recipes: A juice drink is a beverage that is made by combining juice with other ingredients, such as water, sugar. juice drink recipes
Product Brand: 1TouchFood
Product Currency: CAD
Product Price: 10
Product In-Stock: InStock