Description
Here is Cool Drink Recipes for Winter. Cool drink recipes refer to beverages that are served cold and refreshing, typically perfect for hot weather or as a thirst-quencher. These drinks can range from non-alcoholic beverages like iced teas, lemonades, smoothies, and fruit-infused water to alcoholic drinks such as cocktails, sangrias, and frozen drinks.
Cool drinks recipes are easy to prepare, and they can be made with a variety of ingredients, including fresh fruits, herbs, spices, and juices, to create a flavorful and refreshing beverage that will keep you cool and hydrated.
Cool drink recipes for winter are warm beverages that can help you feel cozy and comfortable during the colder months.
E-book of Cool Drink Recipes for Winter
In this section, we have put 50 Cool Drinks Recipes for Winter of all kinds of drink for you. With this product, you will have 50 Cool Drink Recipes for Winter in one file forever. These files are in PDF format and can always be saved.
Please follow us in linkedin. You can learn all best french food recipe and best Italian food recipe you can check our Reddit page.
50 Cool Drink Recipes for Winter from the Best Recipes - 1Touch Food Culinary Center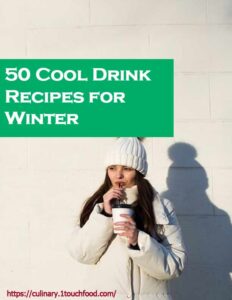 Here is Cool Drink Recipes for Winter. Cool drink recipes refer to beverages that are served cold and refreshing, Cool Drink Recipes for Winter
Product Brand: 1TouchFood
Product Currency: CAD
Product Price: 10
Product In-Stock: InStock