Picnic food are a fun and easy way to enjoy the outdoors with friends and family. Whether you're heading to the park, beach, or even just your backyard, a picnic can be a great way to spend time together and enjoy some delicious food. Here are some tips for planning the perfect picnic, as well as some delicious picnic food ideas to inspire you.
Planning the Perfect Picnic food
Before you start packing your basket, it's important to think about the logistics of your picnic.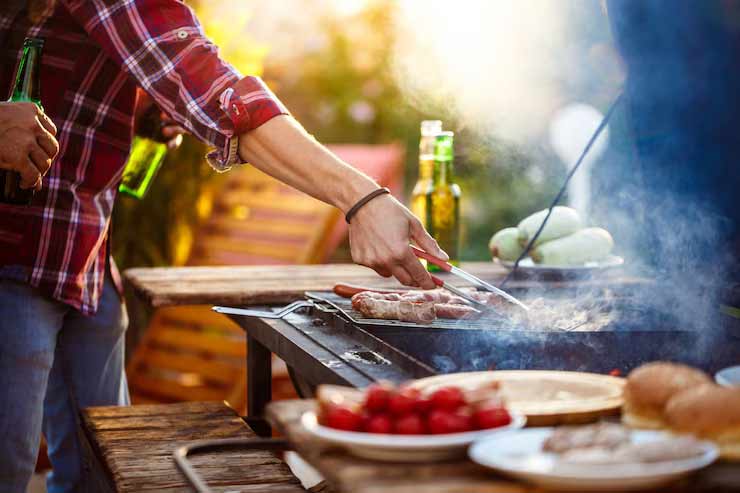 Here are some things to keep in mind:
Location: Choose a spot that's convenient and comfortable for your group. If you're planning on hiking or exploring, make sure to choose a spot that's easy to access and has plenty of shade.
Timing: Plan your picnic for a time of day when the weather is mild and comfortable. Late morning or early evening can be great times for a picnic.
Packing: Be sure to pack a blanket or tablecloth, plates, cups, utensils, and napkins. A cooler filled with ice packs can help keep your food fresh and safe to eat.
Activities: Bring along some games or activities to keep everyone entertained. A frisbee, ball, or deck of cards can be great options.
Picnic Food Ideas
Once you have your logistics in order, it's time to start planning your menu.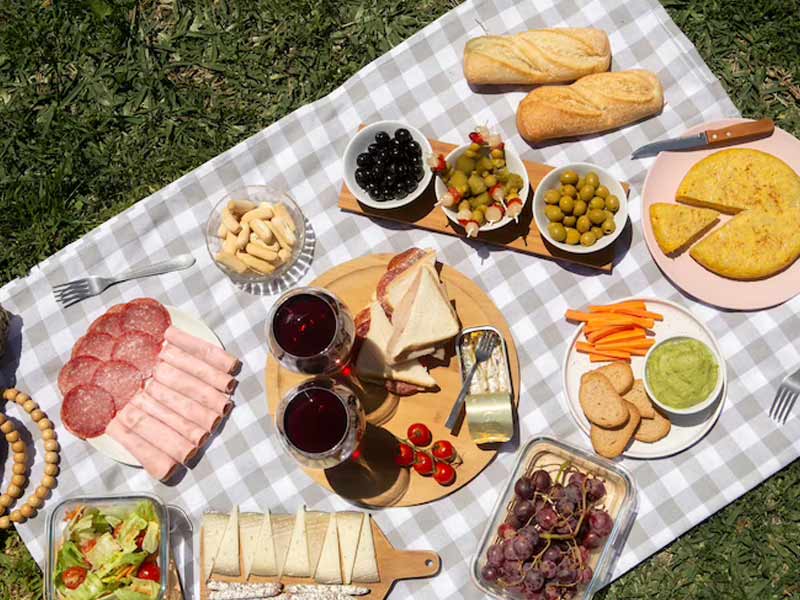 Here are some delicious picnic food ideas to get you started:
Sandwiches: Classic sandwiches are perfect for picnics. Make them ahead of time and pack them in a cooler with some ice packs to keep them fresh. Some delicious sandwich ideas include turkey and cranberry sauce, roast beef and horseradish sauce, and caprese with fresh mozzarella, tomato, and basil.
Salad jars: Mason jars filled with salads are a great way to bring healthy and delicious food to your picnic. Try layering greens, grilled chicken, cherry tomatoes, and avocado for a filling and satisfying salad.
Fruit skewers: Cut up your favorite fruits and thread them onto skewers for a fun and easy snack. Pineapple, watermelon, and strawberries are all great options.
Charcuterie board: A charcuterie board is a great way to feed a crowd. Include some cured meats, cheeses, crackers, and fruit for a delicious and satisfying spread.
Deviled eggs: These classic picnic snacks are always a hit. Hard boil some eggs ahead of time and mix the yolks with mayonnaise, mustard, and your favorite seasonings for a tasty snack.
Grilled veggies: Grilled vegetables are a great addition to any picnic. Cut up some zucchini, peppers, and onions and grill them for a delicious and healthy side dish.
Chips and dip: Set out a variety of chips and dips for an easy and crowd-pleasing snack. Salsa, guacamole, and hummus are all great options.
Lemonade: Make a big pitcher of homemade lemonade for a refreshing and delicious drink option.
Chocolate-dipped strawberries: Dip fresh strawberries in melted chocolate for a sweet and indulgent dessert.
Trail mix: Mix together your favorite nuts, seeds, and dried fruit for a portable and healthy snack.
In conclusion, a picnic food can be a great way to enjoy the outdoors and spend time with loved ones. By planning ahead and packing some delicious and easy picnic food ideas, you can make your next picnic a success. So grab your basket and blanket, and head out for a fun day in the sun!
Picnic food ideas for kids
Picnics are a great way for kids to enjoy the outdoors, get some exercise, and have some fun. And of course, one of the best parts of a picnic is the food!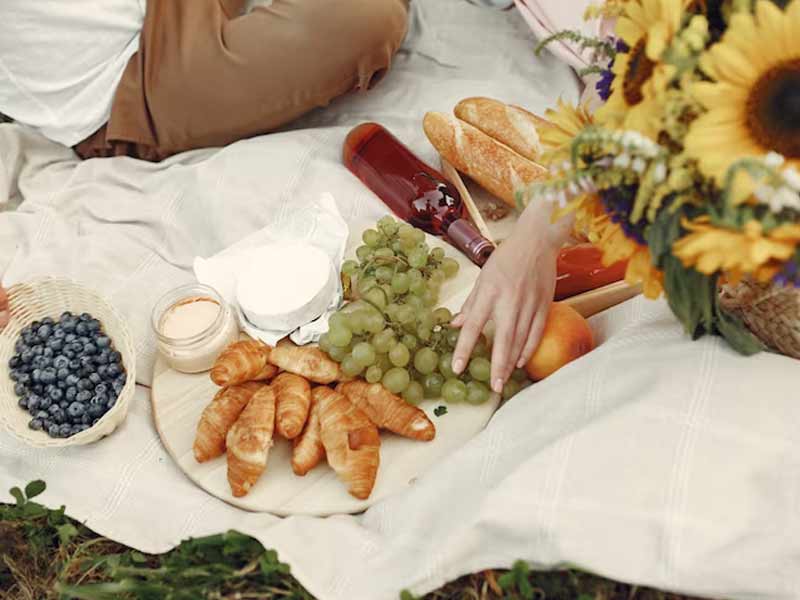 Here are some fun and tasty picnic food ideas that are sure to please the little ones:
Sandwiches: Sandwiches are a classic picnic food that are easy to make and customize to your child's liking. Try using fun shapes with cookie cutters, or making mini sandwiches with slider buns.
Fruit kabobs: Cut up fruit and skewer it onto wooden or plastic sticks for a fun and healthy snack. You can even let your child help assemble the kabobs.
Veggie cups: Fill small cups with cut-up veggies like carrots, cucumbers, and cherry tomatoes, and serve with a side of ranch or hummus for dipping.
Cheese and crackers: Another classic picnic food, cheese and crackers are easy to pack and always a hit with kids. Try using different types of cheese and crackers for variety.
Ants on a log: Cut celery sticks into small pieces and fill with peanut butter or cream cheese, then top with raisins for a fun and healthy snack that looks like ants on a log.
Pita pockets: Fill pita pockets with your child's favorite sandwich ingredients, like turkey, cheese, and lettuce, for an easy and portable lunch.
Trail mix: Make your own trail mix with a mix of nuts, dried fruit, and chocolate chips. Let your child pick and choose their favorite ingredients to make it even more fun.
Popcorn: Popcorn is a fun and easy snack to bring on a picnic. Try adding different toppings like butter, cheese, or even cinnamon and sugar for a sweet treat.
Pizza muffins: Bake mini muffins with pizza toppings like pepperoni and cheese for a fun twist on a classic dish.
S'mores: End the picnic on a sweet note with some s'mores. Toast marshmallows over a campfire or portable grill, then sandwich them between graham crackers and chocolate for a delicious treat.
Remember, the key to a successful picnic is to pack foods that are easy to eat, not too messy, and that your child will enjoy. With these fun and tasty picnic food ideas, you're sure to have a great time outdoors with your family.
Picnic food ideas for large groups
Planning a picnic food for a large group can be a challenge, but with the right food ideas, you can make it a success.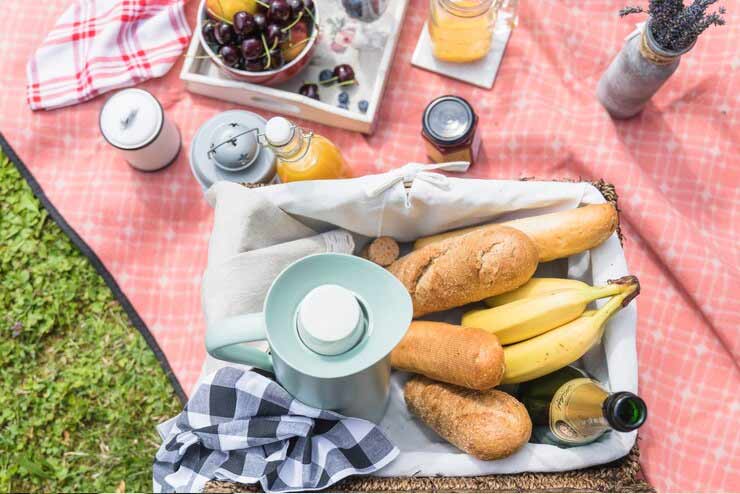 Here are some picnic food ideas for large groups:
Sandwich platters: Prepare a variety of sandwiches and cut them into bite-sized pieces for easy serving. Offer different types of bread, meats, cheeses, and spreads to please everyone's taste.
Fruit salad: Cut up a variety of fresh fruits and mix them together in a large bowl. You can also add a honey lime dressing to make it more flavorful.
Pasta salad: Cook pasta and mix it with vegetables, olives, and dressing. This can be served cold or at room temperature.
Deviled eggs: Boil eggs, remove the yolks, and mix them with mayonnaise and mustard. Fill the egg whites with the mixture and sprinkle with paprika.
BBQ chicken: Grill or bake chicken and serve it with BBQ sauce. This can be a great main dish for a picnic.
Veggie platters: Cut up a variety of vegetables and arrange them on a platter. Serve with hummus or ranch dressing for dipping.
Chips and dips: Offer a variety of chips and dips, such as salsa, guacamole, and spinach dip.
Cheese and crackers: Offer a variety of cheeses and crackers, along with some fruit or nuts for a balanced snack.
Baked beans: Prepare baked beans in a large pot and serve them hot. This can be a great side dish for BBQ chicken.
Lemonade or iced tea: Offer a refreshing drink to quench everyone's thirst. You can also add some fresh fruit or herbs to make it more flavorful.
Remember to pack enough food for everyone and bring serving utensils, plates, and napkins. With these picnic food ideas for large groups, you'll be able to please everyone's taste and make your picnic a success.
The cooking utensils that we should take with us for the picnic food
When planning a picnic, it's important to bring the right cooking utensils to make sure you have everything you need to prepare and serve your food.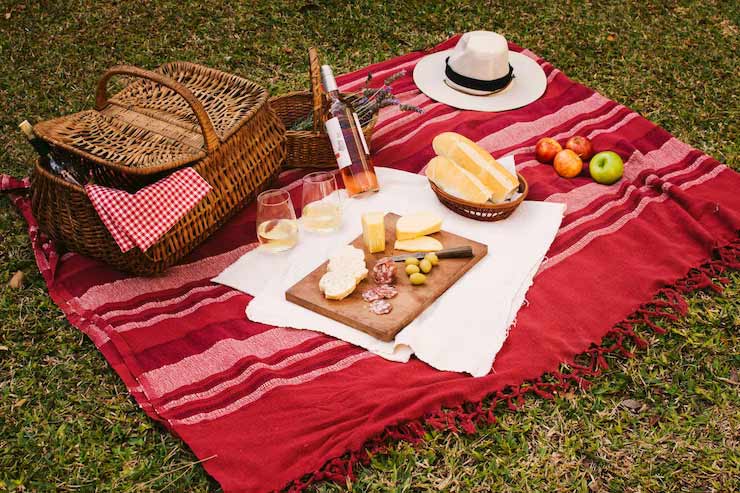 Here are some cooking utensils that you should consider bringing with you:
Cutting board and knife: You'll need a sturdy cutting board and a sharp knife to prepare fruits, vegetables, and meats.
Tongs and spatula: Tongs are useful for flipping and serving meats and vegetables, while a spatula can be used for flipping burgers or pancakes.
Serving spoons: Bring some serving spoons for serving dishes such as pasta salad, baked beans, and fruit salad.
Cooler and ice packs: Bring a cooler and ice packs to keep your perishable foods cool and fresh.
Disposable plates and utensils: Pack some disposable plates, cups, and utensils to make cleanup easy.
Grill or portable stove: If you plan on cooking food at the picnic site, bring a portable grill or stove.
Aluminum foil and plastic wrap: Bring aluminum foil and plastic wrap to cover and transport food.
Can opener and bottle opener: Don't forget to bring a can opener and bottle opener for canned goods and drinks.
Picnic blanket or tablecloth: A picnic blanket or tablecloth will make your picnic more comfortable and enjoyable.
Hand sanitizer and wet wipes: Don't forget to bring hand sanitizer and wet wipes for cleaning up after eating.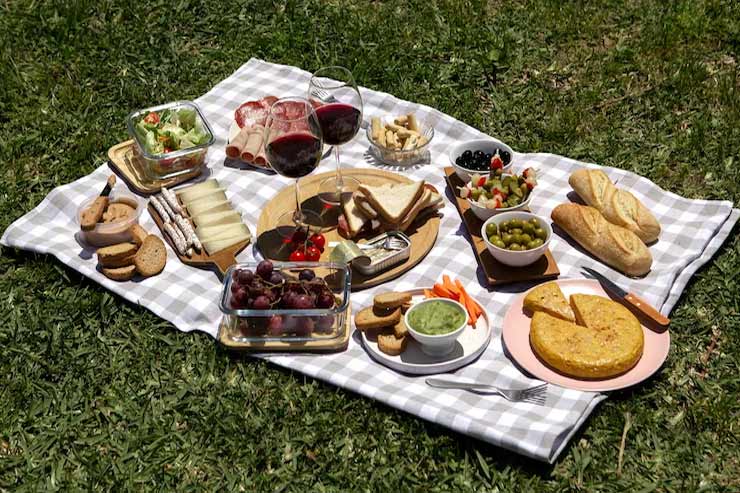 By bringing these cooking utensils with you to your picnic, you'll have everything you need to prepare and serve your food.
The last word is with you, the audience
Be sure to read other educational articles. For scientific issues, be sure to contact a specialist doctor. These materials are only for study and non-educational purposes. Of course, expert doctors can guide you a lot.
Our cooking training center has collected unique materials for you dear ones. This content is very useful and will help you cook the best and most delicious food for yourself and your loved ones at home.

The recipe section is for introducing the best dishes of the nations. Dear ones, you can see the best dishes in this section and cook whatever you want at home. Don't forget to read the recipe and ingredients before doing anything to determine your cooking needs.
Soon we will be with you with a more professional team with more facilities. We suggest that if you are overweight, fill out the Nutrition Programs and wait for our experts to contact you and send you the right meal plan.
The slogan we put on our site is to fight obesity. In this regard, we will provide you with many suitable recipes. Be sure to follow our site to learn about many healthy foods. Do not forget that a healthy life requires extensive changes. One of these changes is changing food. So eat healthy.