Cooking time
Preparation time

15 mins

Cooking time

20 mins

Difficulty

Serves

6 people
Ingredients
8 small

8 cup

4 small

1 1/4 cup

3 large

1 large

1 Tea Spoon

1 Tea Spoon

1 some
In this recipe, we have taught you how to make carbonara pasta in a completely professional and practical way.
You can prepare a wonderful carbonara pasta professionally at home for your loved ones by reading this recipe.
Note for Carbonara pasta
To give a fresh taste to your meal, use the original grated Parmesan cheese. This cheese melts better and gives a richer taste to this dish.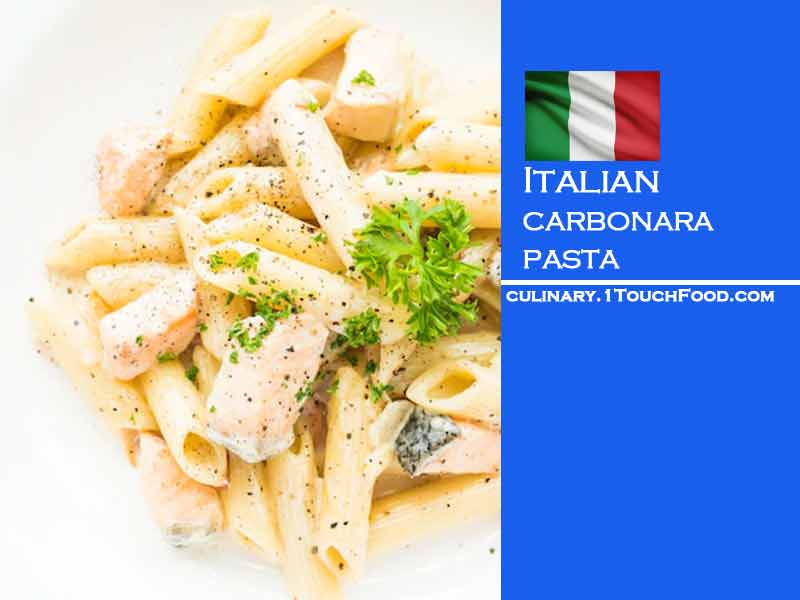 Make sure to immediately add the hot pasta water to the egg mixture to help it set. (If needed, you can even heat the water in the microwave, but it must be very hot).
If you want a thicker sauce, this is the option I've tried. Place the pasta with the sauce mixture in a large bowl over a pot of boiling water.
Cook for just 1 minute or just until well thickened. Be careful not to overcook it as it can become sticky.
One of the most important points in cooking is the use of fresh and organic ingredients. The first point is to use fresh ingredients.
The more you follow these tips, the better and tastier you will have. Rest assured, you definitely can and you will need some experience.
How to prepare best Italian carbonara pasta for 6 people - 1Touch Food Culinary Center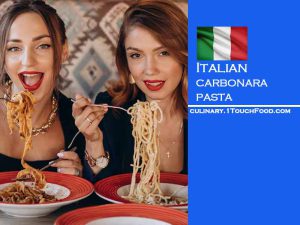 In this recipe, we have taught you how to make carbonara pasta in a completely professional and practical way. This recipe is for carbonara pasta
Type: Main Dish
Cuisine: Italian
Keywords: carbonara pasta
Recipe Yield: 6
Preparation Time: PT0H15M
Cooking Time: PT0H20M
Total Time: PT0H35M
Recipe Ingredients:
8 small veal bacon
8 cup water
4 small Garlic
1 1/4 cup Parmesan cheese
3 large Eggs
1 large egg yolks
1 Tea Spoon Salt
1 Tea Spoon Bell pepper
1 some fresh parsley
Recipe Instructions: In this recipe, we have taught you how to make carbonara pasta in a completely professional and practical way. Enjoy your meals!
Instructions
Add the veal bacon and half a cup of water to a large nonstick skillet and bring to a boil over medium-high heat.

Let it boil for about 6-7 minutes so that the water evaporates. Then reduce the heat to medium-low and continue to cook for about 6-8 minutes until the veal bacon is browned and crispy.

Put the meat in a mesh strainer and put it in a bowl. Let the fat drain into the bowl and the amount of this fat reaches a tablespoon. Then put the garlic in the pan and fry it for about 30 seconds until it becomes fragrant and a little golden.

Put the garlic in a medium bowl. Then add a tablespoon of the veal bacon fat that you saved (drop by drop in a bowl under a colander) to the garlic in the bowl. Add eggs, egg yolks, Parmesan cheese and pepper to the garlic mixture and stir until well combined.

Meanwhile, bring eight cups of water to a boil in a large double boiler. (No more than 8 cups because it makes the sauce too watery when you want it to be thick). Add spaghetti and salt to boiling water and cook until soft. While the pasta is boiling, place a colander in a large bowl.

Carefully drain the pasta into the bowl so that the pasta water is poured into the bowl. Remove a cupful of the hot pasta water and discard the rest. Immediately place the pasta in an empty large bowl.

Slowly pour half a cup of pasta water into the egg mixture. Stir and then slowly pour the mixture over the pasta, tossing it with the ingredients. Add the veal bacon and stir to combine. If you want, add salt to them.

Let the pasta rest. Stir it frequently for about 2 to 4 minutes until the sauce thickens and absorbs the pasta. If needed, add half a cup of the remaining hot pasta water to thin it out. Serve the pasta immediately with extra Parmesan cheese and parsley.