Description
It's important to note that energy drinks can be high in caffeine and sugar, and consuming too much can have negative effects on health. Homemade energy drinks can be a healthier alternative to store-bought options, as they can be customized to include natural ingredients that provide sustained energy without the crash.
E-book of Energy Drink Recipes
In this section, we have put 50 amazing Energy Drink Recipes of all kinds of drink for you. With this product, you will have 50 types of Energy Drink Recipes in one file forever. These files are in PDF format and can always be saved.
Please follow us in linkedin. You can learn all best french food recipe and best Italian food recipe you can check our Reddit page.
50 Energy Drink Recipes from the Best Recipes - 1Touch Food Culinary Center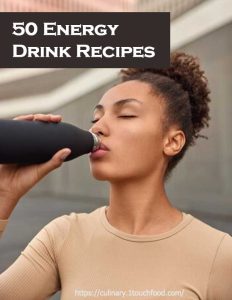 50 recipes for homemade Energy drink recipes with their benefits and descriptions. It's important to note that energy drinks can be high in caffeine
Product Currency: CAD
Product Price: 10
Product In-Stock: InStock